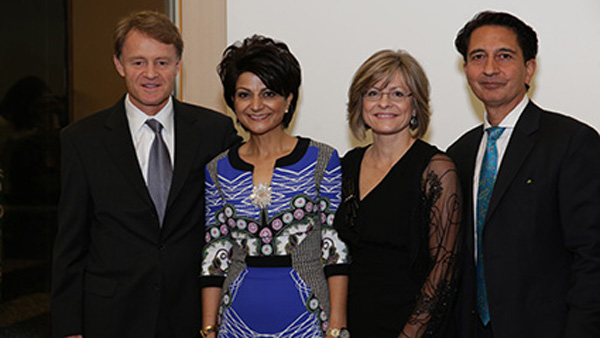 10.09.2013 – Ayenda Foundation held its 8th Annual Benefit dinner at the Residence of the Swiss Ambassador, under the patronage of E.H. Manuel Sager and his wife
Christine Sager on October 9, 2013. His Excellency President and Mrs. de Lazoda of Bolivia, Ambassador Claudia Fritsche of Liechtenstein, Mrs. Ellen Noghes of Monaco, Congressman Ed Royce and Marie Royce, Congressman Joseph Crowley and Kasey Crowley, Congressman John Dingell and Debbie Dingell, Congressman John McGovern and Lisa McGovern and many other prominent friends of Ayenda Foundation were in attendance to celebrate the Foundation's accomplishments and support the children of Afghanistan.
Shamim Jawad, Founder and President of the Ayenda Foundation welcomed the guests and thanked Ambassador Sager and his wife, Christine Sager, for hosting the wonderful event at their beautiful residence.
The Swiss Residence was the proper venue for such a celebration since Switzerland has been providing support and financial assistance for the people of Afghanistan for more than 20 years. Since 2002, Swiss has provided close to $150 million US dollars to Afghanistan. The assistance was to promote human security, reduce poverty, extremism and violence and to promote women and children rights.
Mrs. Jawad thanked all the sponsors and donors for supporting the benefit dinner, especially Ayenda's longstanding friends and major donors Michele and Howard Kessler and the President of Contrack International. She thanked her board members and each and every one of the guests present at the event. "Thank you, from the bottom of my heart for your continued commitment and friendship. As this happens every year, I look around the room and see so many friends that have supported our effort year after year and gave me the strength to continue my work. We couldn't have come this far without your dedication and commitment to Afghan women and children, thank you."
Said Mrs. Jawad.
Ayenda Foundation was established in 2006 to improve the welfare, education, health, shelter and safety of the Afghan children and to provide them a sustainable pathway to a better and brighter future. Mrs. Jawad said: "We may have helped the children with our projects, but they have changed our lives, especially my life. And I say this every year because it is true, the children have given me appreciation of life and a great sense of purpose to wake up in the morning and look forward to another beautiful day of lending a hand to those who are less fortunate in our world. There is no better joy in the world than sharing a moment of joy with a child that is not as fortunate as my own child".
For eight years, Ayenda Foundation has been educating thousands of young children in Afghanistan. As well as building, operating, and supporting schools and computer labs through out the country. To further advance those efforts, Ayenda has offered scholarships to AUAF students, offered training and skills development programs, while also funding health programs, sports facilities and equipment. In addition, Ayenda provides humanitarian assistance to the refugee families in Kabul.
Ayenda's most recent project is the opening of Ayenda Children's daycare at the AUAF's new International Center for Afghan Women's Economic Developments to help women entrepreneur with their young children.
Mrs. Jawad concluded by saying: "I would like to stress again that all these accomplishments were made possible due to your support. Although we have much more work ahead of us, we know with the donation and support of friends like you, we will sustain and enhance our efforts to improve the lives of Afghan children and their families. We are incredibly grateful for all your generosity
and looking forward to your continued support."