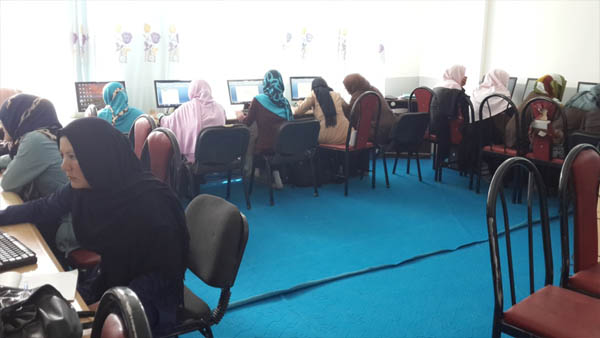 04.01.2014 – Ayenda Learning Center started the new school year on April 1, 2014. Students returned to school fully energized
and with lots of enthusiasm for starting another exciting year of learning.
Ayenda has hired a new English and Computer teacher. She is a graduate of the Kabul University and very qualified for the job. She has designed a comprehensive method of teaching basic computer and English for the students. Students were trilled to see a highly qualified instructor joining the Ayenda team.
Three years ago, Ayenda Foundation inaugurated its computer lab at the Ayenda Learning Center to connect Ayenda's student to edit my the rest of the world and open a virtual window of opportunity to the poor but inquisitive children of the isolated Bamiyan province. Now the computer lab is given the youths the opportunity to access the Internet, and take classes to learn the basics of computers and technology. Ayenda is connecting these charming and lively children to their peers around the world to facilitate better understanding among the children everywhere to help them make the world a better and safer place for all of us.
It was Ayneda's wish for the computer Lab to serves the students at the Center as well as the community in the area, especially the female students from Bamiyan University, High School students and women from the community to learn basic computer skills.
We are delighted to report that our computer classes for the female students of the Bamiyan University is preceding again and it is flourishing every year. Female student attends the class twice a week. As we were envisioning, now the Center
has become a hub for women to network and get connected to the rest of the world through the Internet.
The skills that the girls are gaining through consistent, hands- on computer training are translating across all fields and better prepare them to enter the job market. Ayenda provides the students at the Bamiyan University and the surrounding girl's high school the ability to learn and network effectively. It is Ayenda Foundation's pride to be able to bring computer and Internet access to one of the most remote provinces in Afghanistan, Bamiyan.