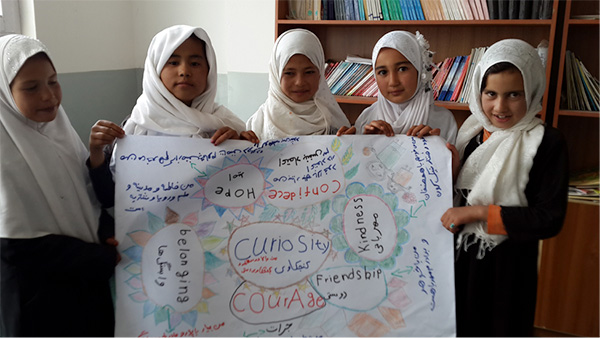 07.01.15 – ​
The Ayenda Foundation and LitWorld edit my are​ happy to announce a partnership on an innovative literacy program at the Ayenda Learning Center in Bamiyan, Afghanistan. ​LitWorld ​is ​a 501(c)3 non-profit organization creating a permanent positive change in the world through literacy programs. Litworld facilitates Litclubs all over the world. These clubs provide a safe and supportive environment for students to explore communication skills with the guided mentorship of a LitClub Leader.
This past month the program started at the Ayenda Learning Center with 20 students from age 10-14 years old. LitClub sessions are structured around LitWorld's 7 Strengths, foundational ideas that promote resilience and create new ways to reach every child as a reader, learner, and writer. These strengths include: Belonging, Curiosity, Friendship, Kindness, Confidence, Courage, and Hope. The students learned about these 7th strengths and participated in discussions about them during their first few weeks of the program.
The LitClub mentor, Leqa Fahimi, said "… I want to encourage them
to improve their knowledge as a girl, (and) became independent in every aspect of their life." The Ayenda Foundation is
excited to see the development of this program and the positive impact that it will have on the students.